TRANSFER MONEY
You will need to be Registered – go to Register Now- No obligation Quote
When you have logged on using the email address and your own password provided when you Registered, you will see the page below: To Transfer Money click on TRANSFER MONEY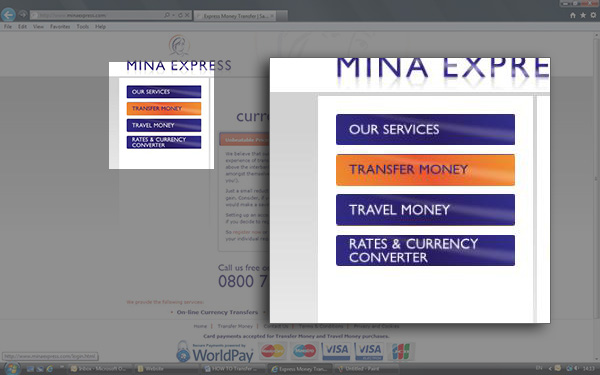 Select the CURRENCY you wish to BUY.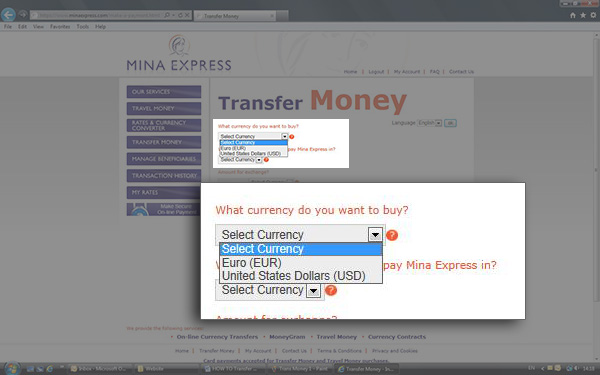 Select the CURRENCY you wish to PAY Mina Express in.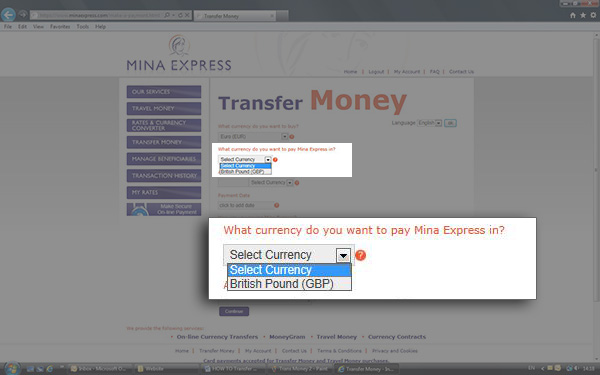 Select the AMOUNT you wish to exchange, this can be either in the currency you wish to buy or are paying Mina Express in, for example:
You wish to buy £1,000 worth of Euros or you wish to buy €1,000.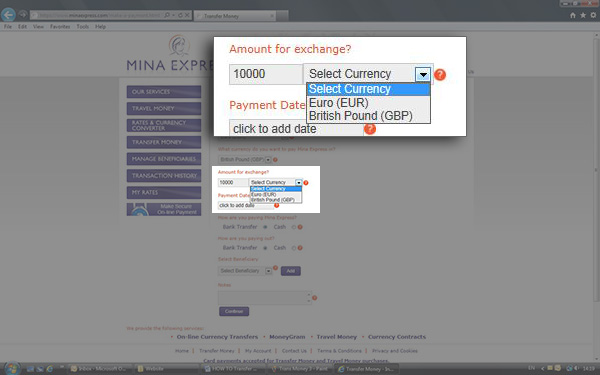 Click on the PAYMENT DATE required, the date box will show the first available payment date, taking into account bank cut off times and how long the transfer takes through the banking system. The final payment date will also be affected by when Mina Express receives the funds from you.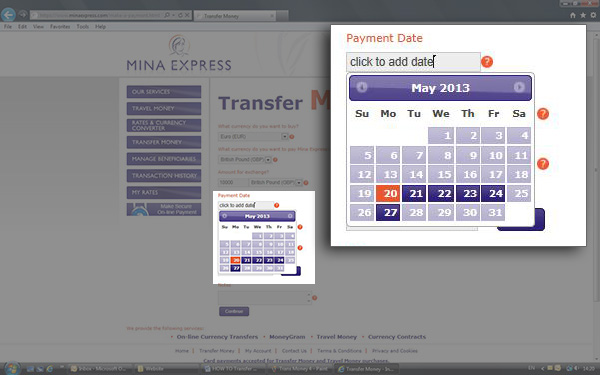 Select how you are PAYING Mina Express, Bank Transfer (which includes 'Make Secure on-line Payments' via the Main Menu) or Cash (direct to one of our three offices, London, Manchester or Nottingham) and how you wish the Beneficiary to be paid (please note cash payments to beneficiaries can only be made where we have a correspondent in that country – please call us to check where this option is available).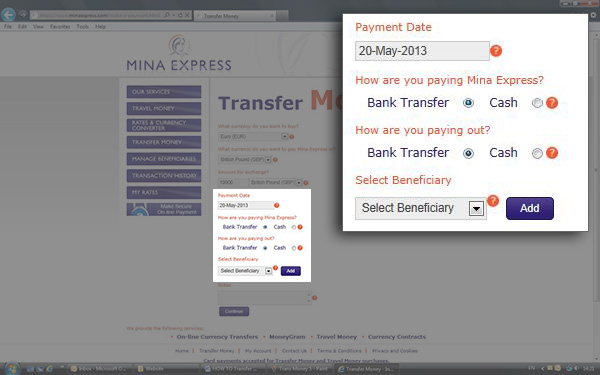 Select the Beneficiary you wish to pay – you can ADD a Beneficiary either on this Transfer Money page or by clicking on MANAGE BENEFICIARIES on the main Menu.
When ADDING a new beneficiary you will be asked to double check whether you have already set up the Beneficiary, if not then click to proceed to set up.
You will be asked for the Name and Address of the Beneficiary, plus their Bank details – IBAN, Account Numbers, SWIFT, Routing and Sort Codes are normally shown on Bank Statements. Comments are generic to the Beneficiary – if you wish to advise us of details that will change, for example an Invoice Number, please include in the NOTES section on the Transfer Money page.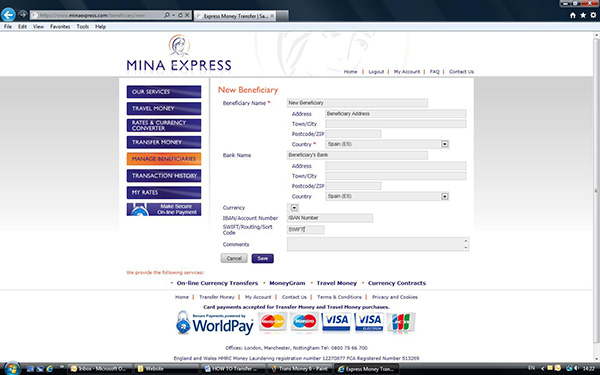 The new Beneficiary will now be included within the drop down Menu, you also have the option to select To be Advised Later if you are unsure of the Beneficiary details but wish to purchase the currency.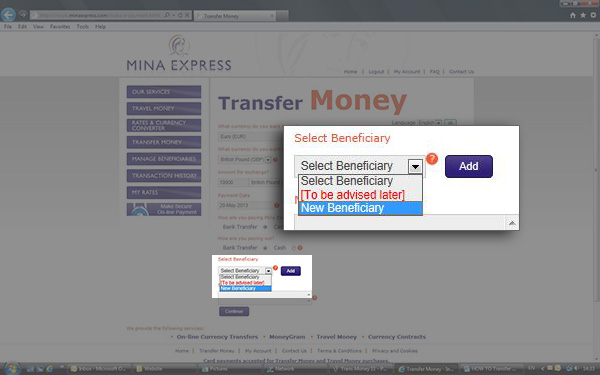 Include any NOTES (e.g. Invoice Number, Reference you wish to be included with the payment) and click on CONTINUE - Your 'No Obligation' QUOTE will be shown – If you are happy with the quote click on PROCEED AND CONFIRM – Please note this will enter you into a Contract to purchase the currency.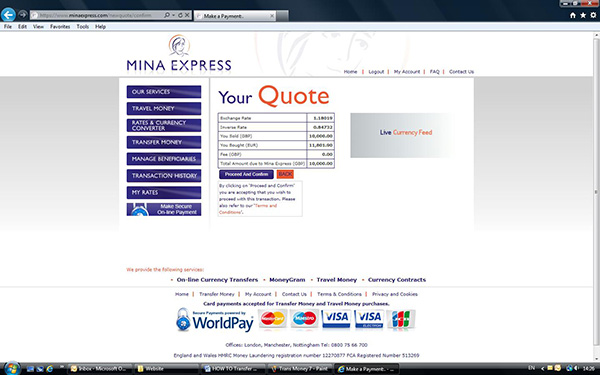 Your TRANSFER MONEY CONTRACT NOTE confirming all the details of the Transfer will be shown on screen, at this stage it will be 'Pending Acceptance' by Mina Express. You will receive an email confirming when your purchase has been accepted (this will normally take only a couple of minutes).
Details of the Mina Express Clients Bank Account you need to pay are included within the Contract Note. You can also make payment through the 'Make Secure on-line Payments' system.
To obtain a copy of the Contract Note at any stage click on HOME and TRANSACTION HISTORY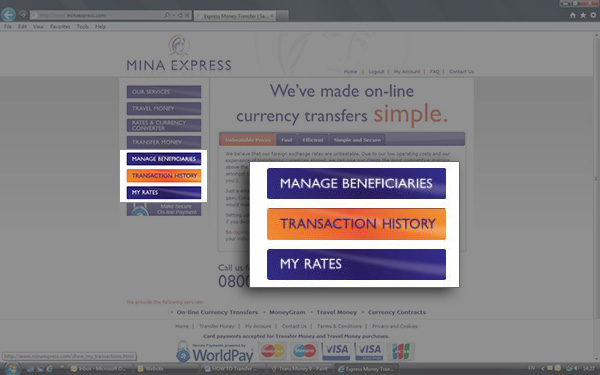 You will see a list of all your Transactions and the 'Status' e.g. a Green Tick means your Transfer has been accepted by Mina Express. Click on the REFERENCE NO to retrieve a copy of the Contract Note.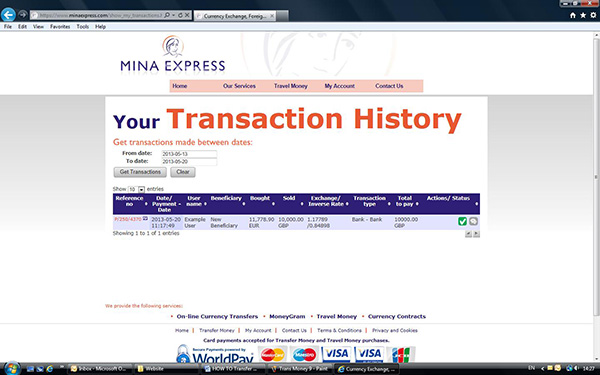 To LOGOUT click on My Account and then Logout.